Summer 2014: Sharks, Poo, and Spaghetti Squash… OH MY!
By: Maria Kasdagly in MAKwellness
This summer has been full of learning experiences…
I am still afraid of the water…there may be a shark (even in a lake).
The pretty yellow flowers produced by broccoli plants means you were too late…boo.
Your dog is not rolling in the grass because they are happy to be outside, but rather they are coating their bodies in some stinky poo.
Sugar Snap Peas don't like their feet wet for prolonged periods of time.
Wild Turkeys look awkward running down stairs.
Yes, summer 2014 is providing some epic memories and the great news is that it is STILL summer! One thing you learn as an Minnesotan is to cherish each day of the warmer months as you literally could get snow any day.
The Garden!
As many of you know, my tiny garden has provided much joy and healthful nourishment this summer…I have had more kale and cherry tomatoes then I know what to do with it!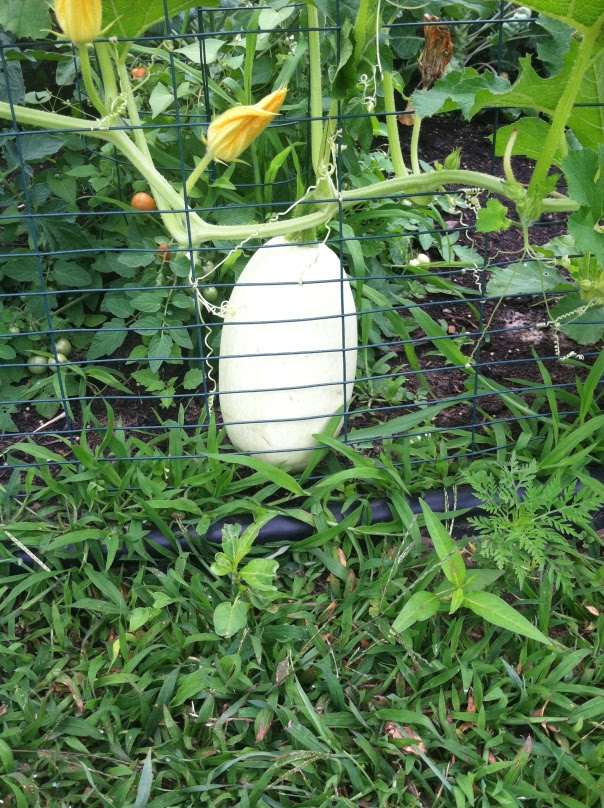 Soon to be Spaghetti Squash
This morning I found this little beauty growing into one extraordinary Spaghetti Squash. So in honor of my soon to be ripe Spaghetti Squash here is a delectable recipe combining homemade pesto, spaghetti squash, tomatoes, and chicken (optional)!
Pesto Chicken Spaghetti Squash & Tomato Tapenade
Serves 4
Chicken Pesto Spaghetti Squash Ingredients:
• 2 cups fresh basil leaves, packed
• 4 cups of fresh spinach OR arugula leaves, packed
• ¼ cup of extra virgin olive oil
• ¼ cup of pine nuts or almonds
• ½ cup of plain fat-free Greek yogurt
• 3 garlic cloves, peeled
• Juice of ½ a lemon
• Salt and freshly ground pepper, to taste
• Special equipment needed: food processor
• 1 spaghetti squash, cut in half lengthwise
• 1 Tbsp extra virgin olive oil for squash
• 4 pieces boneless, skinless chicken breast (optional- could replace with baked tofu)
Tomato Tapenade Recipe:
• ½ red onion, diced
• 2 Tbsp capers
• 1 cup cherry tomatoes, cut in halves
• ½ cup kalamata olives, cut in halves
• 2 Tbsp red wine vinegar
• Salt and freshly ground pepper, to taste.
Directions:
1. Preheat oven to 450 degrees F. Split the squash in half and scrape out seeds. Line an oven tray with aluminum foil. Season the spaghetti squash with oil, salt, and pepper. Place flesh side down and roast for 30-40 minutes until fully cooked. Remove from the oven and let rest until cool enough to handle.
2. While squash is cooling, add basil, spinach (or arugula), oil, nuts, yogurt, garlic, lemon juice, salt, and pepper in your food processor. Pulse to combine ingredients—consistency should be creamy. Set aside.
3. Lightly pound out chicken breast, rub all sides with ¼ of the pesto mixture, and place chicken in an oven tray. Cook chicken for 25-30 minutes until fully cooked.
4. Meanwhile, combine red onion, capers, cherry tomatoes, kalamata olives, red vinegar, salt, and pepper in a separate bowl. Toss until mixed.
5. When squash is cool enough to handle, using a large kitchen spoon scrape the strands of squash from the inside of the skin. Toss the spaghetti squash in a pan with the remainder of the pesto mixture for just long enough to get hot.
6. Serve chicken on top of pesto spaghetti squash and top with a few spoonfuls of the tomato tapenade. Enjoy!