From Purple to Orange- The Mysterious Carrot
By: Maria Kasdagly in MAKwellness
Carrot Trivia (True or False):
Carrots are better for you raw than cooked.
The first cultivated carrot is believed to originate from the mountains of Afghanistan before the 900s and exhibited purple or yellow roots.
Mel Blanc, the voice of cartoon character Bugs Bunny, reportedly did not like carrots.
The orange carrot that we know today is orange for entirely political reasons.
Carrots have lots of vitamin C and that is why they are orange.
Bear and Vinny (my two dogs) hate carrots. Every time I peel a carrot they run under the bed.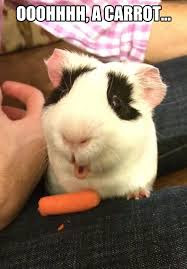 Answers:
False- Cooked carrots helps to break down their tough cellular walls. It's hard to properly chew carrots and optimally benefit from the beta-carotene content. In the body, beta-carotene is converted to vitamin A, which is beneficial for bone health, the immune system, and vision. According to a 2008 report in the Journal of Agriculture and Food Chemistry, cooked carrots made its antioxidants, most notably carotenoids, more ready available to the body.
True- The first cultivated carrot did not have orange roots, but rather purple and yellow (often referred to as white). The orange carrot didn't appear till the 17th century.
True- Apparently, Mel Blanc was allergic to carrots.
True- In the 17th century, Dutch growers are thought to have cultivated orange carrots as a tribute to William of Orange – who led the the struggle for Dutch independence – and the color stuck.
False- The orange pigment comes from Vitamin A, more specifically the phytochemical beta-carotene. One medium sized carrot provides more than 200% of your daily requirement of vitamin A. Carrots are loaded with beta-carotene, a natural chemical that the body changes into vitamin A. The deeper orange the carrot, the more beta-carotene you're getting.
False- My dogs are obsessed with carrots. As soon as they hear the peeler hit the carrot they are lined up waiting for their little treat.
Tri-colored Roasted Carrots with Fresh Herbs
Ingredients:
12 carrots (I found a bag of Tri-colored at Trader Joes, but orange will do as well!)
3 Tablespoons Grape Seed Oil
A pinch of Sea Salt
A pinch of Ground Black Pepper
2 Garlic Cloves, minced
Approximately 1/4 cup of loosely packed Fresh Herbs (I have Rosemary, Basil, and Thyme growing on my deck so I used those for this recipe)
Directions:
Preheat oven to 425 degrees Fahrenheit. Cut carrots into 3 inch sticks (should look like french fries) and arrange in a large glass baking dish. Toss the carrots with grape seed oil, salt, pepper, garlic, and fresh herbs until well mixed. Cover with aluminum foil and bake for about 20-25 minutes covered, and an additional 5 minutes uncovered. Serve warm!