Miriam Reeves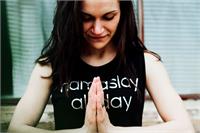 My journey to yoga started with a need to feel strong, graceful, and peaceful after leaving a rough past behind. Taking my yoga teacher training changed my entire practice and my entire life. In 2014, I began my teacher training with Alexandria Crow through YogaWorks. It was one of the best decisions I have ever made. Throughout training, I learned more about my body- its strengths and limitations- my thoughts and how to change them, and my yoga practice as a whole- both where it was on track and where it was sorely lacking. The biggest change to both my practice and my life was my awareness. I developed a strong sense of body awareness- realizing that my practice was indeed my own and that it didn't have to look like everyone else's, as well as a drive to work on those areas in my practice that I had never given a second thought to before. There was now an awareness surrounding my life. The ability to be aware and to be content were two things I had never had before. Yoga brought me to them.
I have my 200hr teacher certification through YogaWorks Alex Crow and have been teaching for almost 4 years now. In every class I teach I aim to encourage students to find their body awareness- whether that means slowing down or building up- and to both challenge themselves and find peace with their practice. I believe everyone should feel strong and content when leaving a practice and I hope you all will find that in my class. See you on the mat!
Miriam Reeves is currently not instructing any classes.