Ellen Haines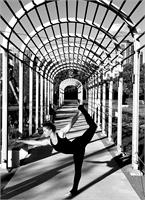 I found yoga in 2011 during my last semester of college. After years of competitive soccer and track, running began to cause so much hip and knee pain, that exercising became a chore. So, I set a New Year's Resolution to seek out an alternative form of exercising and stumbled upon a 21 day online yoga challenge. Over the course of those 21 days and beyond, I fell in love yoga and the benefits that followed with consistent practice. I continued learning and growing my home practice via youtube videos and a gaiam subscription for 2 ½ years before making the leap to travel to Rishikesh, India for a 200 hour Ashtanga/Hatha teacher training that blew my mind. It was there that yoga became more than just an outlet and form of exercise; it became a lifestyle for me that continues to teach me patience, help me slow down, and to appreciate the "little things".
When I teach, I don't show up with a specific sequence or plan, but rather an intention to let go and plug in to the energy of the students. My classes blend the alignment based foundation of Ashtanga, with creative sequencing and an emphasis on breath. My hope is that students will have fun on their mats, feel both challenged and supported to try new things, and will ultimately experience a deeper mind-body connection.
Ellen Haines instructs the following:
Candlelight flow-our newest class!

Unwind from your day bathed in candlelight while you move and breathe to slower flow class. The end of the class has some longer holds for a more restorative ending to your day. And of course a longer Svasana is featured to allow you to completely let go.




Our Power Vinyasa Flow classes are vigorous yet accessible. They integrate a series of poses that will move you through the power of inhaling and exhaling. The smooth, continuous flow deepens breathing, increases endurance, and calms the mind while restoring and shaping the body. The room is heated at 98 degrees with 30% humidity and classes vary in length. INTERMEDIATE CLASS. Check the online class schedule.