Barbara Sandarin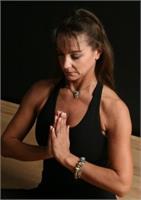 I am inspired by the many benefits of a consistent yoga practice, those that can be measured such as increased flexibility & strength, to less tangible aspects as heightened self-awareness & a sense of calm. I believe there is no division of mind, body and spirit, but all of these exist as facets of the whole. Above all, my goal and duty as a teacher is to provide my students with the best possible experience...one that leaves them feeling challenged and more aware of their own potential.
Barbara Sandarin instructs the following:
This class is our Heat A series with a few postures taken out to offer enough time at the end for a 10 minute meditation/savasana. The hour is set up nicely for meditation with candles and soft music. Same sweat, more rest!