Anna Bakke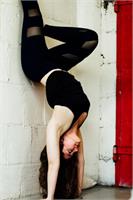 Anna began practicing Yoga in high school as a means of getting a little more movement into her day. What started out as a hobby turned into a passion for exercise and leading an active, healthy lifestyle. Her classes have an emphasis on finding correct alignment and engagement, cultivating strength and maintaining presence. Anna completed her RYT 200 hour through Yoga Works in 2014- she has been teaching ever since. She graduated with a Bachelors of Science in Kinesiology from the University of Minnesota and is currently a graduate student at the U of M, studying Exercise Science. Additionally, she holds certifications in mat Pilates and Barre.
Anna Bakke instructs the following:
HEAT A is a set sequence of postures linking breath and movement (vinyasa), this class moves at moderate pace. Classes begin with warm up movements (Sun Salutations) while cultivating awareness of breath control. The series of postures improve flexibility, strength, posture, balance and mind-body awareness, while enjoying a deep sense of calm. The heat allows for a safe, deep loosening of the muscles and joints, mobilizes and strengthens the spine and stimulates and detoxifies the internal organs. Emphasis on tight hamstrings, glutes and strengths back muscles.

A student at ALL levels can create their own physical intensity by choosing offered modifications and variations every practice you attend.

Teachers add different themes and philosophy concepts throughout the class so you have a unique experience every practice.




Fusion Flow is an invigorating class that blends the east and west because it effectively merges the ancient practice of Yoga from the east with the core-stabilizing, posture- enhancing dynamics of Pilates from the west. A combination of yoga and Pilates, to create a mindful core conditioning routine.