Dale Kukielka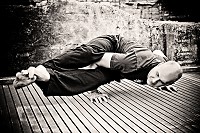 Dale took his first yoga class over 20 years ago, and has been practicing yoga since, intensifying considerably over the past five years. In May of 2009, he completed the 230 hour teacher training at the Yoga Center of Minneapolis, and is registered as 200 RYT with Yoga Allliance. He has recently completed his 500 hour teacher training program at Devanadi studio in Minneapolis. In addition to yoga, Dale is certified in Taiji and Qigong, teaching both for over 8 years. Through yoga, he strives for the union of body, mind, and spirit.
Dale Kukielka instructs the following:

HEAT C is a set sequence of postures linking breath and movement (vinyasa), this class moves at moderate pace. This class differs from our Heat A or Heat B by offering 4 different peak pose options. The set poses will change based on the peak pose chosen by your teacher. Classes begin with warm up movements (Sun Salutations) while cultivating awareness of breath control. The series of postures improve flexibility, strength, posture, balance and mind-body awareness, while enjoying a deep sense of calm. The heat allows for a safe, deep loosening of the muscles and joints, mobilizes and strengthens the spine and stimulates and detoxifies the internal organs. Emphasis on balance and strengthening core, twists, chest muscles.
Peak pose may include arm balancing, inversions, and deep back bends with detailed cuing to help the newest yogi as well as a yogi veteran wanting to know another way to enhance their practice. This is a great option to lead you into more advanced classes like Intermediate, Power Vinyasa Flow or Rocket.




This class is our Heat B series with a few postures taken out to offer enough time at the end for a 10 minute meditation. The hour is set up nicely for meditation with candles and soft music. Same intensity, more rest!